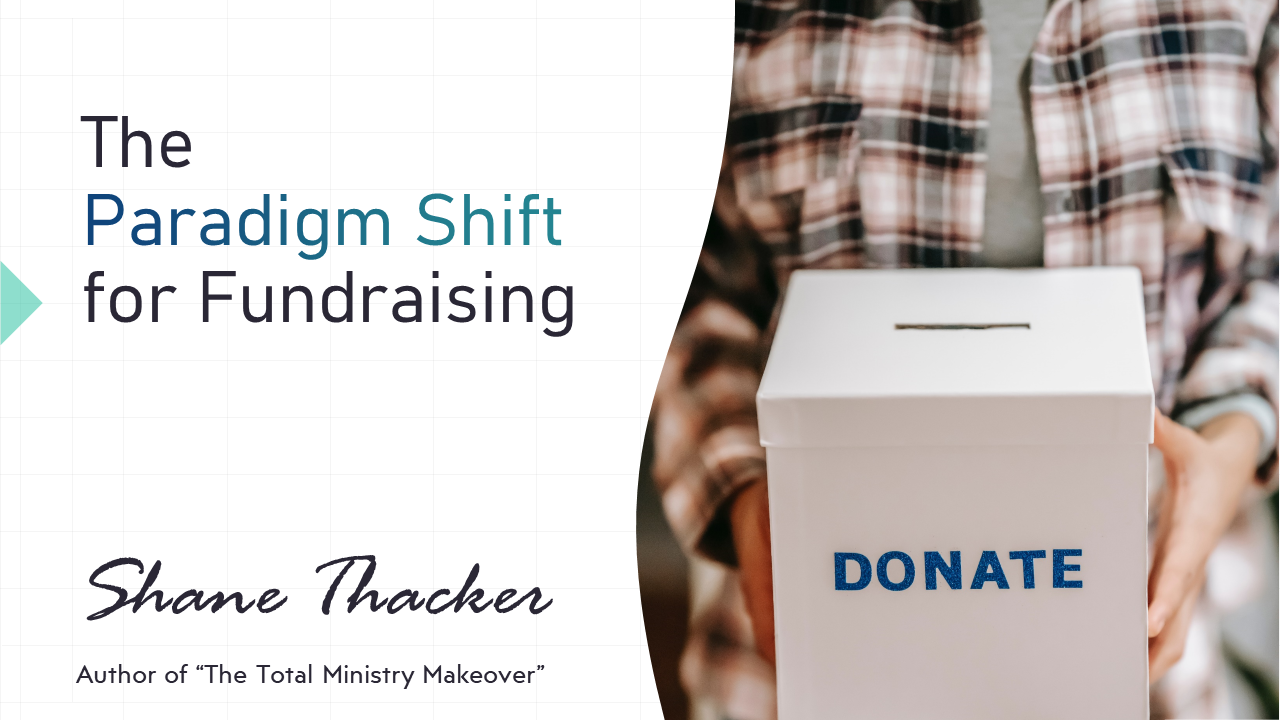 The Paradigm Shift for Fundraising
4/4/2022
by Shane Thacker
Whether you're headed to camp, a mission trip, or just doing a project around the church, you've probably heard someone step up and say… "you need to do a fundraiser!" Some are very effective and hit or even surpass whatever the goal is. Others… not so much. If I were to guess, as a church leader you've experienced not hitting the goal far more, only to hear those words again… "you need to do another fundraiser!" Good luck.
Years ago, I got tired of doing fundraisers over and over, only to feel like a failure for not hitting the goal. I thought to myself, "I'm continually missing the mark, why would I keep doing it?" I needed a paradigm shift for fundraising. Thankfully over the years, God put some wise leaders in my life to help me do just that. So, here's 3 things you need to know about raising funds:
Fundraising typically helps in the short-term.
That's it. Sure, there are certain types of fundraising that has recurring giving options… that's not what I'm talking about here. In fact, I'm talking about something deeper than the financial need. My question is, what values are we (unintentionally) teaching our students by having too many fundraisers? We need to shift their mindsets from being dependent to dependable. They may very well hit the goal and be able to go on that trip for the short-term, but if we can accomplish that AND teach them something they can take with them for the long-term, wouldn't that be better? This leads to the next point.
Fundraising is far more effective when it has a clearly necessary goal, and helps others in the process.
Let me give an example. Our church goes to Sunset Bible Camp each year in Mannford, Oklahoma. As most church camps are, this is an amazing camp that leaves a Christ-like imprint on the hearts of many students each year. To pay the registration fees, we don't do fundraisers; we do work opportunities. We've had members that needed limbs cleaned up or other basic yard work, house cleaning, whatever they need. So we connect students to address needs in the church, and supervise them to make sure it's done in excellence. What happens then? A student put some sweat equity in paying their registration (so they appreciate the event all the more), and they likely learned new skills needed that will help them get a job later.
Furthermore, they get the beginnings of a mindset shift from being dependent to dependable, AND they're thinking ahead on saving for the next trip. To top it off after all that, students get to interact in totally new ways with people outside of the youth group. And with that, this happens:
Work opportunities help cultivate a paradigm shift for the whole church family.
When you can get your youth group to connect in this way with the church family, it changes everything. If you stay consistent on this and communicate for future events to the church, they'll be thinking year round on work opportunities for the students. They see that you're not just after another handout, but a hand up.
Over the years, many of our students have gotten regular jobs directly because they worked for a member that took notice of their work ethic, and gave an outstanding recommendation on their behalf. Talk about a paradigm shift!
"Wealth gained hastily will dwindle, but whoever gathers little by little will increase it. Proverbs 13:11 (NIV)
---
Want a paradigm shift for ministry?
I've been in ministry for over 10 years, and I've watched many leaders struggle; not just in fundraising, but ministry in general. We've all been there at one point or another. In my seasons of struggle, I had to have a paradigm shift on how to approach ministry in order to lead well.
As a result of what I've learned, I've prayed about and developed a program to help leaders do just that, it's called "The Total Ministry Makeover". If you need a paradigm shift for ministry whether it's reading the book, blog, or listening to the podcast, this program is designed to help leaders get on the right foundation for life in the ministry.
Regardless of the size of your church or the size of your leadership: if you follow the steps of The Total Ministry Makeover, it'll dynamically change how you lead in the church, and by extension, how your church will lead your part of the world to Jesus Christ.